Welcome!
Sorry, Kids Crafty Kits is on holiday!
Please have a look around, but we can't take your order for a few days.
Thank you!
Kids' Crafty Kits offers a delightful range of craft projects to keep little hands busy. Each kit provides everything you need but the glue, including simple to follow instructions.
Parties...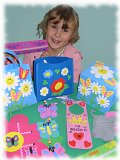 Kids' Crafty Kits' main mission is to provide simple, original and attractive kits for use at children's parties. The projects are great fun and will give any child a great sense of satisfaction when they have finished. They are also designed to be something they would be proud to take home and will give lasting value. Simpler kits can be used as an ice-breaker or to calm children down before party food!
...and much more
Because the kits are sold in small quantities and are very reasonably priced, they are also perfect...
...when friends come to play
...for rainy days at home
...to make gifts for family and friends
...to entertain children at weddings or other occasions
...for activities at groups like guides, brownies and rainbows