Chick with Dangly legs
Sorry, Kids Crafty Kits is on holiday!
Please have a look around, but we can't take your order for a few days.
Thank you!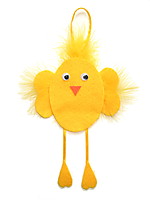 A unique craft kit to make an Easter decoration to be proud of.
This original craft kit contains all that you need* to make a delightful chick with long legs. Inside your kit you will find instructions, felt, feathers, ribbon and googly eyes. Please note that the felt pieces are not pre-cut but an easy to follow pattern is included.
Once complete this delightful decoration measures approx 21cm x 14cm (excluding the looped ribbon).
*Glue is not included. We recommend using a strong glue, such as tacky glue, for our felt projects.